Kerala Awards are highest state-level civilian awards instituted by the government of the Indian state of Kerala on the model of the Padma Awards instituted by Government of India. The establishment of the awards to be conferred on individuals who have made "priceless contributions to society".
Kerala Sree is the third highest award and was conferred on six persons in the first year.
Gopinath Muthukad was conferred the Kerala Sree award for his contributions to the field of Magic and tweaking its use for the benefit of society. He turned magic from a street art to a subject of study. He got influenced by witnessing the lives of differently abled persons and their families. This made him withdraw from commercial public stage performances and dedicate himself to a philanthropic cause of serving them.
As a motivational speaker, Gopinath Muthukad uses his experience as a magician to inspire people to think creatively and overcome challenges. His millions of fans and followers eagerly look forward to his videos and often share them with their friends and family, making them viral on social media. He has been a successful influencer amongst the people of Kerala.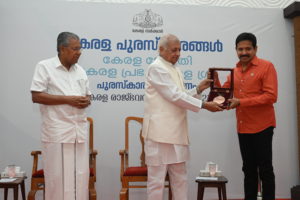 Banging on his credibility and ability to communicate critical messages, governments and even UN have placed major responsibilities on his shoulders from time to time.
He received the first-ever Kerala Sree award from Hon'ble Governor of Kerala, Arif Muhammed Khan on 22 March 2023, in the presence of Pinarayi Vijayan, Hon'ble Chief Minister of Kerala.