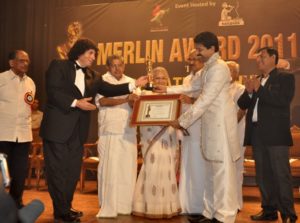 Gopinath Muthukad set several "firsts" and won national and global recognitions including the coveted Merlin Award for Magicians in 2011. (The Merlin Award is presented to those magicians who have achieved the highest level in their craft, both on the national and international stage. The criteria that the voting members consider are talent, showmanship, originality, skills, and above all the rare ability to entertain under any conditions.)
Banging on his credibility and ability to communicate critical messages on child rights to masses, he was conferred the status of Celebrity UNICEF Supporter to join the efforts of the UN agency in improving condition of children in the state of Kerala.
Gopinath Muthukad has been appointed as the State SVEEP Icon of Kerala – 2023. Systematic Voters' Education and Electoral Participation program (SVEEP) is the flagship program of the Election Commission of India for voter education, spreading voter awareness and promoting voter literacy in India.
He was also appointed as Ambassador for Kerala State Commission for Protection of Child Rights.
He was declared the Brand Ambassador for "Child-friendly Kerala" project by the Government of Kerala in 2020.
The philanthropic tasks he undertook made him amongst the finalists for Leader of the 21st Century by San Francisco University in 2019.
He is a recipient of the below coveted awards
Kerala Sangeetha Nataka Academi Award 1995
Kerala Sangeetha Nataka Academi Fellowship 2017
In 2022, he was honoured with first-ever Kerala Sree Award, third highest civilian award given by the Government of Kerala.