Gopinath Muthukad was born on 10 April 1964 in Kavalamukkatta, a small village near Nilambur to Kunhunni Nair and Devaki Amma. After graduating in mathematics from N. S. S. College, Manjeri, he joined Law College, Bangalore but later dropped out and left his Nilambur home for Thiruvananthapuram to pursue his passion in magic. Although his early years as a magician were full of struggles, he began to be noticed for his unique styles of presenting magic. He has appeared in more than 8,000 stages in India and abroad, and has given a new vision and mission to the art of magic.
Early Career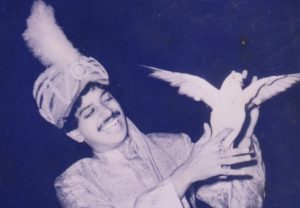 Inspired by the stories of Vazhakunnam Namboothiri and enthralled by the magic shows he watched; he became very passionate towards magic right from a very young age. A chance meeting with legendry magician R.K. Malayath, became the turning point in his life. Muthukad was chosen as the maestro's disciple which gave him ample opportunities to perform on many stages along with R.K. Malayath. This provided him a solid platform for entry into magic. By the age of ten, he started giving stage performance and came to be known for his unique style. Soon after, his career began to flourish, and he performed on many stages organized within the country and abroad.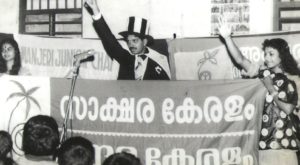 Gopinath Muthukad, has been using 'magic' as a medium since 1974 to spread worthy ideals and instill unique thinking among the populace. His unique motto is 'Magic with a Mission'. Apart from magic, he has also marked his footprint as a successful Illusionist, mentor, escapologist and stunt performer. In 1990, he began his first mission with the direction of the Government of Kerala, carrying a social message to spread the message of literacy.
Magic as a subject of academic interest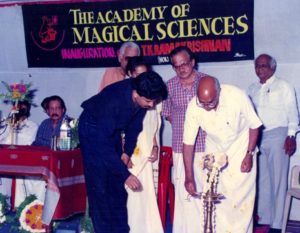 In 1996, Muthukad established Asia's first magic academy at Thiruvananthapuram. Upholding the torch of science, his academy not only propagates magical art to entertain public but also spreads moral values to the public. Due to his creativity, attitude and dedication to the Art of Magic, Muthukad was awarded with 'International Merlin Award' (Award equivalent to Oscar in Magic) in 2011 by the International Magicians Society. He also become the 'first magician' to be credited with 'Kerala Sangeetha Nataka Academy award' in 1995. His passion towards magic not just ends with awards alone. Keeping in mind the unique motto, he follows his mission both in his personal and professional life.
The art of influencing for good causes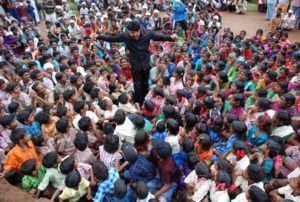 Muthukad has been designated as State Icon for Kerala by the Election Commission of India, for his activities on creating awareness and motivating the masses to participate in the electoral process. Through his magical shows, he was able to create awareness on the importance of democracy and the need to participate in the electoral processes. He was the first Keralite selected for this honour. He worked as volunteer in the North East State of India where people is reluctant to cooperate in the election process. He was declared the brand ambassador for "Child-friendly Kerala" project by the Government of Kerala in 2020.
Magic as a tool for reformation
Muthukad is the first Keralite to be honoured as a celebrity supporter by the UN agency UNICEF, for promoting child right activities in Kerala. Muthukad uses magic as a medium to connect with his audience. He utilizes magic in a useful way to spread good ideas and awareness among the people. The motivation program is designed with art, science, fun and wonders all the senses that can touch your mind. This made him the most popular motivational speaker in Kerala.
Multi-faceted Muthukad is an author and educator who instills a feeling of wonder and encouragement over every aspect of life. He is the author of several widely circulated magical books in Malayalam.
Travel through the nation with a magical message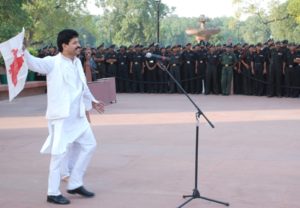 For a period of 20 months between 2002-2010, he travelled across the length and breadth of India and perform magic along with his team of 25 people. With support of the Indian Army, the team travelled from Kanyakumari to Kashmir, villages to towns, hills to valleys, villages to historic monuments, even in tough terrains, borders and military bases. During all these performances, they upheld the message of national heritage, integrity, fight against terrorism, communalism and separatism. This is the first time an art group has traveled throughout India by road four times. The uniqueness of these trips made it listed in the Limca Book of Records.
Into a world of philanthropy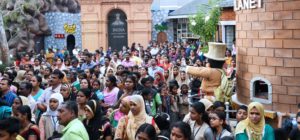 Gopinath Muthukad, through his strenuous efforts, established the Magic Planet, the world's first magic theme park in 2014. The luscious green Magic Planet spread over 1.5 acres of land holds several performance venues aimed to protect many street-arts threatened by extinction due to lack of platforms. It thus became a rehabilitation hub for Indian street magicians, circus artists and other folk artists.
In 2019, he setup a comprehensive art centre for the talented differently abled children under the name of Different Art Centre. From within the campus of Magic Planet, the well organised centre educates and empowers differently abled children by recognising and sharpening their raw talents through special and appropriate methods including various artforms and science.
Inspired by the changes observed in these children, Gopinath Muthukad's leadership is envisaging a Universal Empowerment Centre (UEC). Launched in 2022, the initiative aims at enhancing the employability of differently abled youth through tailored skill and capacity development trainings.
Passion to serve and motivate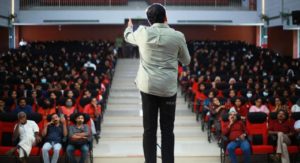 Apart from several highly responsible social missions both self-initiated and those assigned by governments from time to time, his passion for delivering magical messages and sincere commitment to serve the welfare of society has transformed Gopinath Muthukad into a motivator and an inspiring speaker – above all, a deep-rooted and respected household name in Kerala.
The philanthropic tasks he undertook made him amongst the finalists for Leader of the 21st Century by San Francisco University in 2019.
Muthukad has announced his retirement from professional magic shows and now he has focused his area of work mainly on empowering the marginalized differently-abled community. In 2022, he was honoured with Kerala Sree Award, third highest civilian award given by the Government of Kerala.
Gopinath Muthukad is married to Kavitha Muthukad and has a son Vismay Muthukad.